The larger the company, the more important it is to define processes - at best, the processes are written down and represent the rules of the company. Often, existing tools such as Word, Excel and Visio are used for this purpose. After 1-2 years the awakening occurs: Effort in administration, frustration, outdated documents and little added value in the everyday life of the employees becomes apparent. A pure verification documentation for auditors is created with the objective to minimize the effort. 
With an Interactive Management Software, employees are enabled to actively participate in the documentation, to contribute their knowledge to process descriptions and thus to create an up-to-date documentation with added value for the entire company.
Initial Situation
In all companies, there are processes and specifications that should be adhered to in everyday work. In smaller companies, this can often be solved with simple, existing tools such as Word, Excel and Visio. But these tools quickly reach their limits in many respects: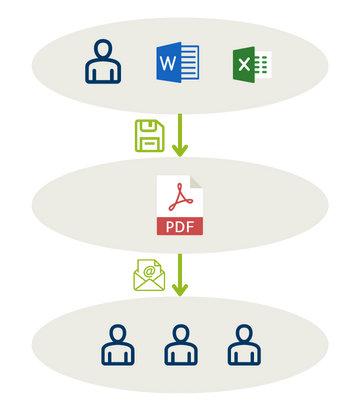 Document transformation & distribution 
Dependence on individuals
A file created in Word, Excel or Visio is usually published as a PDF to maintain document control. New documents or changes to existing documentation are often distributed to colleagues via email. If an employee wants to introduce a change, they are forced to contact the author of the document. This creates the eye of a needle for one person: versioning, adjustments, evaluations, document maintenance have to be adjusted manually by one instance. In most cases, this responsibility lies with quality management. The result: changes are associated with a lot of effort by both process owners and quality management, and are not seen as added value in everyday life.
Shadow documentation by process owners: uncontrolled growth emerges

 
To avoid these efforts, process owners and employees increasingly create so-called shadow documents. Employees begin to create their own documents with the processes and specifications that are most relevant to them. This results in a proliferation of process descriptions and procedures. The same procedures are created by different people - but are stored on local, sometimes even private data carriers. The favorite place for documentation: one's own desktop. An overview or even a joint creation or consolidation of documents is only possible to a limited extent.
In addition to the proliferation of documents, shadow documentation has other disadvantages: it is often unusable for audits due to a lack of document control, it ties up unnecessary employee resources, and the lack of a systematic approach leads to more and more confusion among employees. 
Example of a documentation analysis r with regard to "shadow documentation" from a customer.
The result: a document desert that no one can keep track of
This form of documentation does not add any value to the company; on the contrary, it ties up more resources than necessary for good documentation and creates confusion. The QM vicious circle develops.
QM vicious circle

Since updates by the central processing instance involve a great deal of effort, documents are only updated prior to audits, resulting in pure verification documentation. The gap between reality and documentation continues to widen, the relevance within the company decreases and the documents are used less - frustration arises for all involved. 
But how do I create a unified platform that all employees can contribute to?
To solve the described problem of Word and Excel deserts and to create a unified platform for the entire company that adds value, 4 factors are particularly important:
1. Involve employees:
Asking employees which descriptions are particularly important to them in everyday life and where the errors, gaps and weak points are represents a very important factor. If employees are provided with a writing license, they can contribute their knowledge to the instructions without having to go through a single instance, and the resource shortage in the QM department is resolved. If this is implemented together with a fast and efficient release workflow / document steering, up-to-date documentation with real added value is created.
2. Simple, individual operation:
The new tool must be quick and easy for all employees to use so they can contribute their experience without hurdles. Word and Excel are familiar, so the operation of the tool must be kept similarly simple.
3. Documentation must take place in near real time:
One problem that arises from the centralized way of working with Word and Excel is the often long layover time at the central instance. Changes are often only released after days or even weeks. This long time lag demotivates the process owners and ultimately leads to frustration. If, on the other hand, changes are made quickly and easily and the current document is directly available to everyone, the new document can be used after just a few minutes or hours. In addition, the motivation of employees to contribute their knowledge is increased enormously. An efficient, simple and fast release workflow must be in place.

4. Linking of other systems:
The management system is just one system in the company. This is where all the knowledge is bundled and, ideally, the links to other systems such as SAP, Microsoft Dynamics 365, Salesforce and Babtec are established at the appropriate points. In this way, your employees can navigate from the documentation directly to the right place in the corresponding system with just one click. Search and query times are saved.

 
Working more successfully with an Interactive Management System
An example shows how successfully our customers work with an Interactive Management System. Zettl Group, a medium-sized company with 250 employees and a wide variety of departments, was faced with the challenge of introducing uniform documentation throughout the entire company. The 8 different document types that were previously used were standardized and merged in order to simplify the very time-consuming document maintenance and management. The jumble of shadow documentation were dissolved, the documentation was merged and made available for all to see and, above all, to edit. The outdated documents were turned into up-to-date work instructions, process descriptions and best practices that help employees in their day-to-day work.
The new status quo 
Today, the company-wide documentation is all mapped in Q.wiki - so it has been possible to merge the four different company divisions. The decentralized nature of the system is important for its further development: shortly after its introduction, a good half of all write accesses came from employees who were not part of the core project team. The departmental structures were thus broken down and a process-oriented system was established. Due to the early involvement of employees, the distribution of responsibilities and the participation of everyone, the management system is now highly relevant in the company and has become an effective aid in everyday life. Q.wiki has become a process and knowledge platform and has been accepted throughout the company from the very beginning. This is confirmed by the figures of our analysis: 
75% of users are regular users of the system, 
carry out 1,800 updates per month 
and ensure a total of up to 23,000 accesses per month. 
Thanks to the transparent documentation, shadow documents have disappeared, resources are saved, and cross-team collaboration is promoted by the process-oriented presentation.  
The up-to-dateness of the documents, the simple standard assignment and fast document control noticeably save time in the preparation and execution of audits - certifications have almost become a matter of course today.

Bring your documentation to life! 
Leave the document desert behind and create a living process culture with an Interactive Management System, from which your entire company will benefit! Important features that make Q.wiki so successful as a management system: 
As a central information platform for the entire company, the knowledge of all employees is accessible to everyone. This applies to process knowledge, work instructions and best practices that your employees gather in their daily work. Access for all enables enormous time savings, because search and query times can be minimized thanks to the full-text search. This also makes it easier for new employees to get started in the company and contributes to rapid familiarization.
Clearly assignable process responsibilities have several advantages: Those responsible to date - usually the QM departments - are greatly relieved and the new process owners are the knowledge carriers - those who execute the processes. If your employees are involved and even become process owners, the identification with the processes and the acceptance of the documents and the entire management system increases.   
Recognizing interfaces and linking processes is another important aspect of our management system: link upstream and downstream processes to eliminate errors at interfaces and improve collaboration. 
The clear and concise structure in Q.wiki is an enormously important basis for the success of your management system. Only if information can be found will it be used! The heart of your management system is the process map. From here, your employees can navigate to the relevant documentation. Long search and query times are a thing of the past! 
We have defined intuitive usability as a further prerequisite for a functioning management system and implemented it in Q.wiki. This way, all employees can contribute their knowledge quickly and easily, even without IT knowledge. Together with the clear structure, Q.wiki provides you with a platform on which every employee can quickly find their way around and actively contribute.  
Last but not least, Q.wiki offers a simple document control and a fast release workflow. In this way, we ensure that changes are promptly released by employees and that updates are made almost in real time.    
Want to find out more about how our customers use Q.wiki? 
Do you want to get to know our Interactive Management Software?